LIFE WITHOUT GLASSES
Dr. Robert Maloney believes that a well-informed patient is key to successful vision correction surgery. He wants to be sure that you fully understand what you can expect from your procedure you choose. He wants to help you care for and preserve your eyesight in the best way possible. Here, you can find the information that you need to help you make informed choices about health care for your eyes.
CONDITIONS THAT COULD AFFECT YOUR SURGERY OPTIONS
The following conditions represent areas of controversy in terms of whether a patient is a good candidate for vision correction surgery. My approach is to evaluate these conditions on a case-by-case basis. If you have any of these conditions, discuss them with your eye surgeon.
PREGNANCY
Most eye surgeons consider pregnancy a contraindication to surgery. It isn't that surgery, or the medicines involved, have been shown to have any risk to the fetus. Rather, we worry that if a baby is born with a birth defect, the mother might blame herself, and us, for the birth defect. Also, vision can sometimes change late in pregnancy, which could make the results of vision correction surgery less accurate. In certain situations I will do LASIK in the first or second trimester, but I don't give the usual eyedrops and oral sedative to be sure not to expose the fetus to any medications.
BREASTFEEDING
Some doctors are concerned that vision may change while a mother is nursing. This is not our experience. If more than two months have passed since delivery, you are a candidate for vision correction surgery. However, if you are nursing and do have the surgery, we recommend you avoid oral sedatives, such as Valium, because the drugs will affect your breast milk.
AUTOIMMUNE DISEASES
Autoimmune diseases are ailments caused by an abnormal attack by your immune system on the natural, healthy cells of your body. These diseases include lupus, Hashimoto's thyroiditis, and rheumatoid arthritis. Certain autoimmune diseases, such as rheumatoid arthritis, have been associated with melting of the cornea or sclera in patients who have eye surgery, although only rarely. These conditions can also cause severe dry eye. In general, if you have a well-controlled autoimmune disease, are under age sixty-five, and don't have significant dryness in your eyes, you are still often a good candidate for vision correction surgery.
DIABETIC RETINOPATHY
Diabetic retinopathy is a potentially blinding complication of diabetes that can damage the retina. Patients with diabetes who do not have retinal disease are usually candidates for LASIK or PRK, but not lens-based surgeries.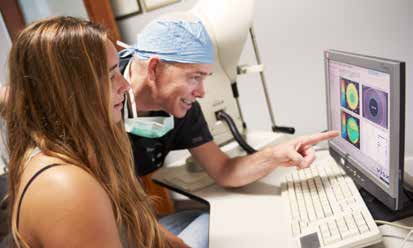 Your ophthalmologist will discuss with you the results of your eye examination and let you know what your options are for corrective surgery.
PUPIL SIZE
One of the side effects of vision correction surgery is an increase in halos and starburst. These night-vision disturbances occur when you are in a dark environment and look at a small bright light, such as a headlight or a streetlight. Halo is the glow that surrounds the light source, and starburst is little spiky rays of light that emanate from the light source. If you have unusually large pupils, more light enters your eyes at night. Some doctors believe that this extra light causes more starburst and halos. A number of major studies have now shown that this is not the case, that there is no correlation between pupil size and night vision. I believe, and more and more doctors are coming to agree, that pupil size is relatively unimportant to your candidacy for vision correction surgery.
PRESCRIPTION MEDICATIONS
Certain prescription medicines may sometimes affect the results of surgery. Accutane, used to treat severe acne, can make the eyes drier after surgery. Oral corticosteroids, like prednisone, are sometimes used by individuals with severe allergies, asthma, or autoimmune diseases such as arthritis and lupus. These drugs can increase eye pressure and increase your chance of getting a cataract. Tell your eye doctor about any prescription and over-the-counter medications you are taking.