LIFE WITHOUT GLASSES
Dr. Robert Maloney believes that a well-informed patient is key to successful vision correction surgery. He wants to be sure that you fully understand what you can expect from your procedure you choose. He wants to help you care for and preserve your eyesight in the best way possible. Here, you can find the information that you need to help you make informed choices about health care for your eyes.
RESULTS YOU CAN EXPECT FROM LASIK
What are my chances of achieving 20/20 vision with LASIK? Can something bad happen to me during surgery? These are the questions that every patient wants to know.
Be aware that 20/20 vision or better is the likely outcome in everyone who has LASIK, but the exact chance of achieving 20/20 vision depends on your degree of correction. Although your doctor can't guarantee 20/20 eyesight after vision correction surgery, it is reasonable for you to ask your doctor to predict your chances for a successful outcome.
LASIK is a very safe procedure. See the Potential Complications section later in this chapter for any concerns you may have about the surgery.
WHAT IS AN ENHANCEMENT PROCEDURE?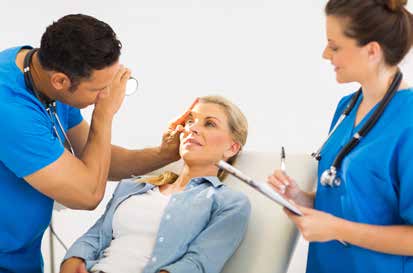 After a LASIK procedure, you'll be sent home with eye drops that will both lubricate your eyes and prevent inflammation. Your surgeon will examine you the day after your LASIK procedure.
If you don't achieve 20/20 vision after LASIK, your doctor should recommend an enhancement procedure to you, if you wish. An enhancement procedure means doing a small amount of additional LASIK to improve your vision further. This is usually done three months after the original LASIK. Enhancement LASIK is even easier than the original LASIK procedure. Because you already have a flap, the doctor doesn't need to make a flap again. You return to the procedure room, where the doctor lifts the flap, applies a small amount of additional laser treatment, and replaces the flap. The recovery is usually faster than the initial LASIK treatment.
Generally speaking, if your vision is 20/20, we don't do enhancement procedures to try to get your vision to a super vision 20/15 level. However, there are exceptions. I like to say that the goal of surgery is to produce a smile. If you are 20/20 and not yet happy with your vision, if appropriate, I'll offer you an enhancement to correct your vision to 20/15.
The statistics I give are typical results of the initial LASIK surgery, without considering enhancements. They are the results you can expect in the hands of an experienced surgeon— someone who has done at least 5,000 LASIK procedures. If enhancements were included, the results would look even better.
TRACKING STATISTICS
Each surgeon achieves somewhat different results with the same laser and the same procedure. The best surgeons track their own results and adjust the laser to optimize each patient's outcome based on the surgeon's personal results. The reality is that most surgeons have not compiled personal statistics for one of three reasons: first, they haven't done enough procedures; second, they aren't willing to do the labor-intensive work of entering large numbers of cases into a database; or third, they don't have the statistical knowledge necessary to analyze their results. This is unfortunate because it reduces your chances of achieving 20/20 vision or better.
A surgeon who tracks his own results will give you a better chance of perfect vision and can also better educate you about what result you can expect, based on your degree of refractive error.
The percentage of people who achieve 20/40 vision is a key target that many surgeons use because 20/40 vision is good enough to drive legally without eyeglasses or contacts. Personally, I don't believe that 20/40 vision is good enough, so I always strive for 20/20 vision or better.
STATISTICAL OUTCOMES ACCORDING TO YOUR REFRACTION
Your chance of achieving 20/20 vision depends on how nearsighted or farsighted you are. To determine this, find your degree of myopia or hyperopia from a recent eyeglass or contact lens prescription, as discussed in chapter 1.
The statistics listed give you an indication of the results to expect from wavefront-guided laser treatment by an experienced surgeon. Keep in mind that the patients who did not achieve 20/20 vision without glasses are still seeing very well, almost always better than 20/40. They can do most things without eyeglasses or contacts, including driving a car. And if they wish to fine-tune their vision, an enhancement procedure can be done.
MILD MYOPIA
You have mild nearsightedness if the sphere part of your eyeglass prescription is between 0.00 and –3.00 diopters. A patient with mild or myopia has a better than 97 percent chance of achieving 20/20 vision on the first procedure, and if enhancements are included, it rises to above 99 percent.
MODERATE MYOPIA
You have moderate myopia if the sphere part of your eyeglass prescription is between –3.00 and –7.00 diopters. After the initial procedure, about 95 percent achieve 20/20 vision or better. Including enhancement surgery, 99 percent see 20/20 or better.
HIGH MYOPIA
You have high myopia if the sphere part of your eyeglass prescription is between –7.00 and –10.00 diopters. Patients with high myopia have a 90 percent chance of seeing 20/20 or better. Including enhancement surgeries, they have a greater than 97 percent chance of seeing 20/20 or better.
EXTREME MYOPIA
If the sphere part of your eyeglass prescription is more than –10.00, you have extreme myopia. Many patients with extreme myopia do well with LASIK, but we do not consider them optimal candidates. LASIK patients in this range are more likely to have enhancements and more likely to have problems with quality of vision, such as starburst, halos, or hazy vision. Patients in this group need to thoroughly discuss the risks and benefits of LASIK, as well as other options, with their doctors. Although enhancement rates are higher in this group of patients, because of other variables in the eye, there may be limitations on what can be done. These patients are often better candidates for the implantable contact lens, discussed in chapter 7.
LOW AND MODERATE HYPEROPIA
If the sphere part of your eyeglass prescription is a positive number, you have farsightedness, or hyperopia. If the number is between +0.25 and +3.00, you have a low to moderate level of hyperopia. After your initial LASIK procedure, you have a 90 percent chance of achieving 20/20 vision.
Patients treated for hyperopia should be aware that their healing time will be slightly longer than for patients with myopia, and the chance that they will need an enhancement is somewhat higher. These numbers will vary according to the patient's original prescription, as well as the skill and experience level of the surgeon.
HIGH HYPEROPIA
If the sphere part of your eyeglass prescription is more than +3.00, you have a high degree of hyperopia. For patients with high hyperopia, the results of LASIK are less predictable, and quality of vision may not be as good as for lower degrees of hyperopia. If you have hyperopia of more than +3.00 diopters, we generally do not recommend LASIK for you; you should instead consider refractive lens exchange, discussed in chapter 8.
ASTIGMATISM
As explained earlier, astigmatism is the second number on your eyeglass prescription for each eye. Patients with mild astigmatism (less than 1.50 diopters) can expect outcomes and enhancement percentages nearly identical to those patients with myopia or hyperopia only. The presence of a greater degree of preoperative astigmatism will somewhat reduce your chance of achieving 20/20 vision after the initial procedure, making it more likely that you will have an enhancement. Also, astigmatism of more than 2.00 diopters somewhat increases your chance of getting starburst around lights at night. Astigmatism of 4.00 diopters or less can be corrected with LASIK.