LIFE WITHOUT GLASSES
Dr. Robert Maloney believes that a well-informed patient is key to successful vision correction surgery. He wants to be sure that you fully understand what you can expect from your procedure you choose. He wants to help you care for and preserve your eyesight in the best way possible. Here, you can find the information that you need to help you make informed choices about health care for your eyes.
HOW PRK CORRECTS YOUR VISION
During the PRK procedure, the outermost layer of the cornea, the epithelium, is removed, exposing the stromal tissue beneath. The exposed stromal tissue is then precisely sculpted by a laser into a new shape to correct your vision. Doing PRK on your eyes is analogous to sculpting a contact lens onto the surface of your eye: you see clearly, but without the hassle of removing, cleaning, or changing a contact lens anymore.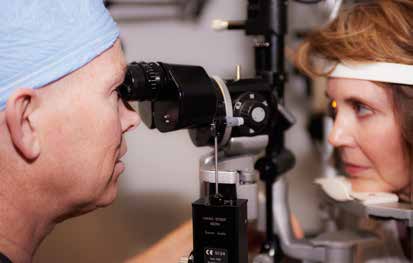 Your ophthalmologist will monitor your progress for several months after a PRK procedure. It typically takes two to three months for your vision to fully stabilize, but most patients see a major improvement the day after the procedure.
PRK AND MYOPIC CORRECTION
As explained in chapter 1, patients who are nearsighted have corneas with too much curvature in proportion to the length of their eyes. The excimer laser reshapes the underlying stroma by removing more tissue from the center of the cornea than from the periphery. The result is a flatter cornea with less focusing power. The surgeon's precise measurements are programmed into the computer to guide the excimer laser. The result is that light rays coming through the cornea now come to a point of focus on the retina rather than in front of it.
PRK AND HYPEROPIC CORRECTION
Farsighted patients have corneas that are not curved enough for the length of their eyes. The excimer laser is programmed to remove tissue predominantly from the periphery of the cornea, leaving the center of the cornea untouched; this creates more of a domed shape. The increased curvature of the cornea allows light rays to focus on the retina rather than behind it.
PRK AND ASTIGMATISM
To treat astigmatism, the excimer laser removes tissue in an oval shape, correcting the shape of the cornea in one direction more than the other. The goal is to eliminate the oval shape of the corneal surface so that light rays passing through the cornea meet at a single point of focus on the retina. Astigmatism can be corrected with the laser in combination with nearsightedness or farsightedness.