CATARACT SURGERY
Dr. Robert Maloney believes that a well-informed patient is key to successful vision correction surgery. He wants to be sure that you fully understand what you can expect from your procedure you choose. He wants to help you care for and preserve your eyesight in the best way possible. Here, you can find the information that you need to help you make informed choices about health care for your eyes.
WHAT IS A CATARACT?
WHAT CAUSES CATARACTS?
Protein fibers in the lens, called crystallines, are precisely arranged in thousands of layers. Usually because of aging, the proteins deteriorate or become "disarranged." Some scientists believe that these fragmented proteins cause the densities, or "clumps," that cloud areas of the lens. These dense areas are cataracts, and as they become larger they cause noticeable vision loss.
People sometimes confuse cataracts with an unrelated lens condition, presbyopia-a stiffening of the lens also caused by aging. Throughout life, the lens continues to manufacture new layers of cells, and the accumulation of layers makes the lens less pliable. As the lens loses its flexibility, it also loses the ability to accommodate as well as it once could.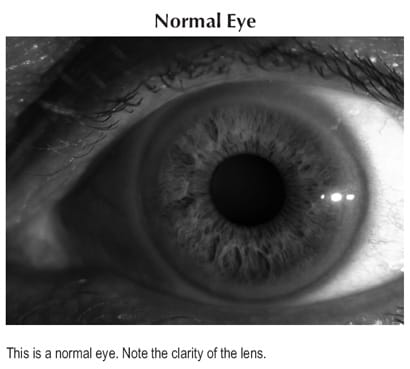 At about age forty-five, most people-even those who have had excellent vision-find that "their arms are too short." They have to hold books and magazines farther from their eyes in order to focus on the print. If presbyopia is your only vision problem, you can probably solve it with inexpensive reading glasses.