CATARACT SURGERY
Dr. Robert Maloney believes that a well-informed patient is key to successful vision correction surgery. He wants to be sure that you fully understand what you can expect from your procedure you choose. He wants to help you care for and preserve your eyesight in the best way possible. Here, you can find the information that you need to help you make informed choices about health care for your eyes.
YOUR CATARACT PROCEDURE
GUIDELINES FOR CARE AT HOME
Once you've seen the doctor in your next-day follow-up visit, you can go home and relax for another day or two, or go back to your normal routine right away, with a few exceptions:
For the first few days, don't wear eye makeup. If you use mascara, buy a fresh tube to use when you start wearing eye makeup again. The fresher your cosmetics, the less likely they are to contain harmful bacteria.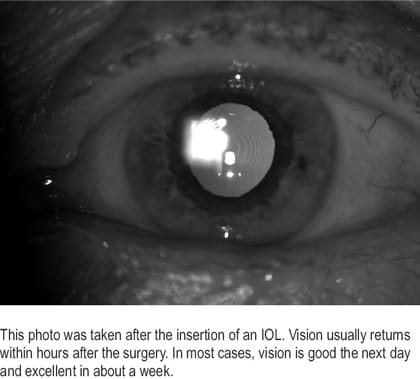 For one week, avoid heavy lifting (more than fifty pounds) and other strenuous activities that might elevate your blood pressure.
It's okay to resume moderate exercise after a few days, but avoid breath holding (as when lifting weights, since holding your breath can raise your eye pressure) and jarring activities (such as running on concrete) for several days. If you're a workout buff, ask your ophthalmologist what forms of exercise are safe and how soon you can resume your full routine.
Continue to use the antibiotic and anti-inflammatory eye drops until your doctor says it's okay to stop-usually a few weeks after surgery.
Stay out of swimming pools, hot tubs, Jacuzzis, steam baths, and saunas for two weeks. Showering and bathing are fine.
Avoid rubbing your eye for four weeks.