A GUIDE TO LASER VISION CORRECTION
Dr. Robert Maloney believes that a well-informed patient is key to successful vision correction surgery. He wants to be sure that you fully understand what you can expect from your procedure you choose. He wants to help you care for and preserve your eyesight in the best way possible. Here, you can find the information that you need to help you make informed choices about health care for your eyes.
LASER VISION CORRECTION: AN OVERVIEW
HOW LASIK CORRECTS THE EYE'S FOCUS
How can a laser beam correct vision? The excimer laser is uniquely suited to the task of refractive corneal surgery because it ablates, or vaporizes, tissue by breaking apart the molecules without creating damaging heat. The un paralleled precision of the excimer laser makes it the ultimate re shaping tool. The laser is so precise that it would take 600 pulses to break through one strand of human hair. This precision allows the surgeon to sculpt the exposed corneal bed, gently and precisely, into a more desirable shape that allows rays of light to focus properly on the retina. The result is improved vision.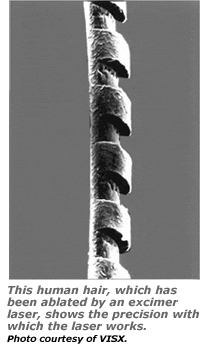 LASIK and Myopic Correction
As explained earlier, patients who are nearsighted have corneas with too much curvature in proportion to the length of their eyes. Once the corneal flap is made and lifted back, the excimer laser reshapes the underlying stroma to achieve a flatter cornea. The surgeon's careful, precise measurements, programmed into the computer, guide the excimer laser. When the reshaping is complete, the flap is replaced. The result is that light rays coming through the cornea now come to a point of focus on the retina, rather than in front of it.
LASIK and Hyperopic Correction
Farsighted patients, on the other hand, have corneas that are proportionately too flat for the length of their eyes. The exci mer laser is programmed to remove tissue from just the periphery of the stroma, leaving the middle untouched; this creates more of a domed shape. The increased curvature of the cornea will allow light rays to focus on the retina, rather than behind it.
LASIK and Astigmatism
To treat astigmatism, the excimer laser removes tissue in a somewhat oval fashion, adjusting the shape of the cornea in one direction more than the other. The goal is to produce a symmetrical surface so that light rays passing through the cornea at various places will meet at a single point of focus on the retina.
LASIK: State of the Art
No LASIK surgeon can promise 20/20 vision without the use of corrective eyeglasses or contact lenses. However, more than 99 percent of typical myopic patients after LASIK can see well enough to legally drive without glasses, usually by the morning after surgery. With today's technological advances, the typical patient has a greater than 95 percent chance of achieving 20/20 vision.