I CAN SEE!
Did you know I had LASIK eye surgery 3 months ago? Raise your hand if you've been a longtime glasses or contact lens wearer like myself. I've had poor vision for 20 years! In 2016 I took the leap to have laser eye vision correction & it was one of the best decisions of my life.
Why?
Well, let me explain. You know I'm a healthcare professional, therefore I thoroughly evaluated my decision to have LASIK eye surgery. Let me give you a breakdown of what I'll be talking about today; skip ahead if you like or fast forward to my short Video about my experience!
– Why LASIK Eye Surgery
– LASIK Eye Surgery Prep, Procedure & Follow-up
– 3 Months Later
– Overall Experience & Why I Chose the Maloney-Shamie Vision Institute
– Cost
– Video
Note: This is not a sponsored post; all opinions are my own. This post may contain affiliate links.
Save
Why LASIK Eye Surgery?
Poor Vision: I've had significant near-sightedness for 20 years. When I was first prescribed glasses, I already had near-sightedness of -1.8! That means what a "normal" eye can see at ~100 feet, I had to be just 20 feet away to see it! As the years progressed, my vision progressed to near-sightedness of -5.5 in my right eye and -6.25 in my left eye before my LASIK eye surgery. That means my vision was worse than 20/400 – I couldn't see the big "E" clearly on the eye chart & Dr. Low had to hold up fingers for me to count during my preoperative evaluation!
Astigmatism: In addition to near-sightedness, I had a moderate level of astigmatism.
Contact Lenses: Since my initial diagnosis 20 years ago, I started wearing contact lenses full-time ~17 years ago. I went through several contact lens brands before finding 2 that worked well for both my near-sightedness prescription, astigmatism prescription & seasonal allergies with mild-moderate dry-eyes. At the end of the day I had severe eye fatigue & eye dryness – overall affecting the quality of my life!
Night Vision: I had poor night vision and night glare. It was beginning to interfere with my day-to-day life and driving habits.
Daily Life: I ALWAYS had to have my contact lenses on. That meant I had to put them on before showering, before putting on makeup & before working out because glasses either didn't help in these daily activities or were annoying (think sweat pouring down your face & glasses sliding down the bridge of your nose…)
Before LASIK, I couldn't see the big 'E' on an eye chart; Dr. Low had to hold up fingers for me to count!CLICK TO TWEET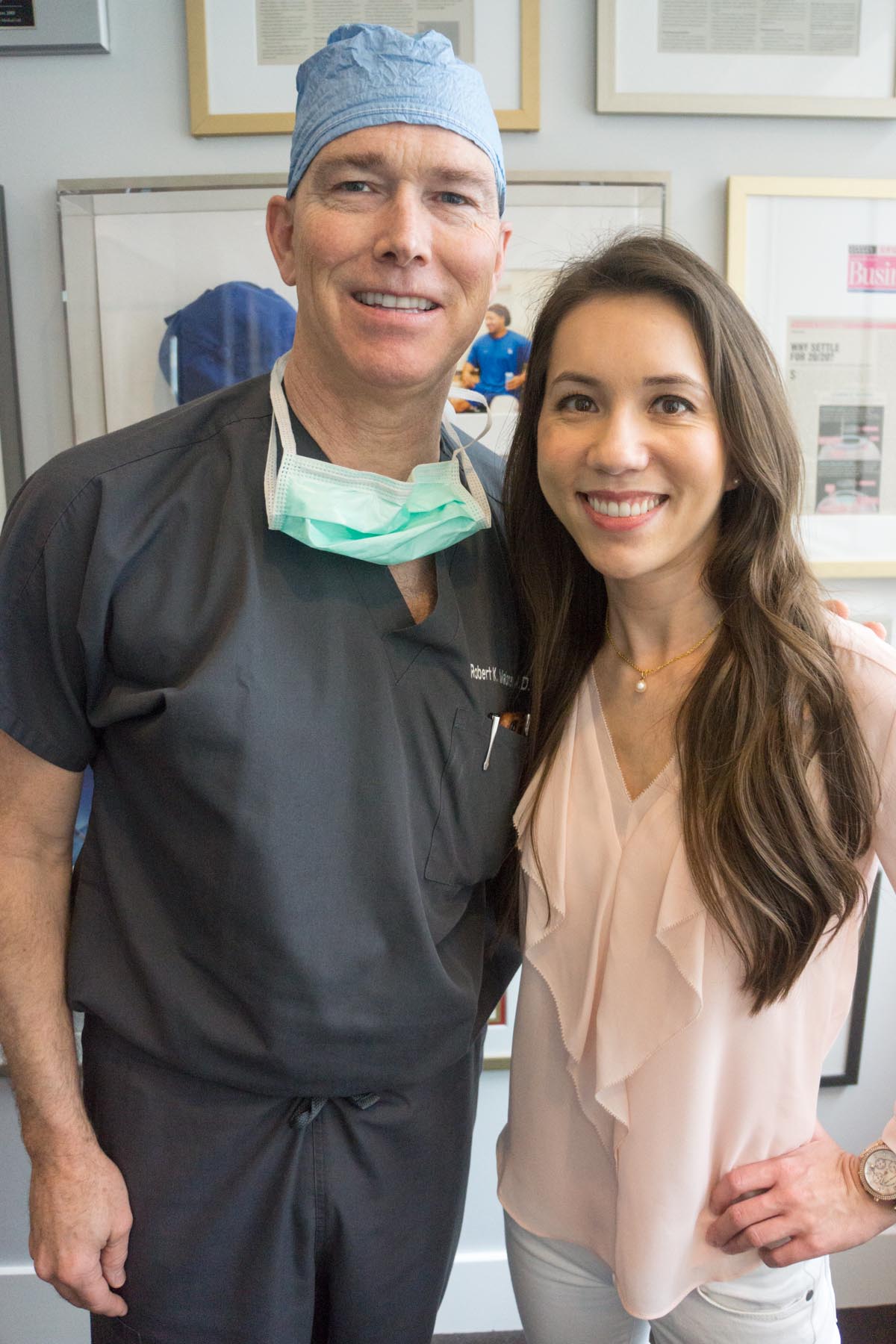 Save
LASIK Eye Surgery: Prep, Procedure & Follow-Up
Prep:

– First I discussed my interest in LASIK eye surgery with my local optometrist
– Then I scheduled a consult appointment with Dr. Maloney
– Before my appointment, I was required to remove my contact lenses for at least 72 hours (I wore my glasses for 3 days prior to my consult appointment)
– Consultation Part I: Determine if you qualify for laser eye correction – I was told I qualify based on this initial consultation
– Consultation Part II: Comprehensive Eye Exam – I opted to continue onto Part II of the Consultation during my same appointment – this was where all measurements were gathered to prep for my LASIK eye surgery
– Discussion with Dr. Maloney – Dr. Low assisted with my preoperative evaluation & then Dr. Maloney met with me to finalize my evaluation, make his recommendations and answer any questions I had about moving forward
– Decision: I was recommended All-Laser LASIK eye surgery with iDesign (All-laser is the general term for Intralase – meaning blade-free, laser flap-creation).
– Now that I knew that I qualified, I had a decision to make – bite the bullet and have the surgery done in 2016 or wait until the new year…
– I initially scheduled my surgery for early January…Dr. Low also offered earlier appointments in October that were available due to cancellations…I went home debated about it and decided to bite the bullet and have the surgery done in October – why keep putting off living my life how I wanted to live it?
Why keep putting off living your life?CLICK TO TWEET
Procedure:

– 3 Days without Contact Lenses was again required prior to surgery
– Bring a buddy for surgery (you won't be able to drive home yourself) – I arrived at the Maloney-Shamie Vision Institute along with my boyfriend the afternoon of surgery – yes, I even went to work prior to surgery at 4pm
– Pre-op included an anti-anxiety medication, numbing eyedrops, antibiotic eyedrops, hair cap and applying betadine to the skin surrounding my eye area
– My boyfriend was allowed to come back for pre-op, procedure and post-op so I had my buddy with me throughout the procedure process
– Dr. Maloney greeted me in the operating room and reassured me before beginning
– Surgery was very quick! It lasted less than 15 minutes, was painless, and Dr. Maloney talked me through the procedure – checking in, telling me what to expect (i.e. pressure on my eye for the next 30 seconds) and giving me positive feedback
– Post-op I sat up, was asked to read the clock which I could (yay!), walked out into the post-op area and was required to keep my eyes shut for ~15-20 minutes, then Dr. Low checked my eyes, placed googles over my eyes and I was sent home with a great Post-op Travel Bag!
– Post-op Travel Bag included single-use vial eye drops, 1 antibiotic eye drop, 1 anti-inflammatory eye drop, sleeping medication (optional, if needed), and instructions for post-op care
– Post-op at home included a 4 hour nap. When I woke up I was able to see well (not perfect of course) and eat dinner before going to bed

Follow-Up:

– The next morning I woke up and could see my alarm clock for the first time in 20 years!
– My post-op appointment was at 8 am and I drove myself to the appointment! and yes, it was raining in Los Angeles that day and I fought traffic on the 405 South during rush hour to get to my appointment on time and without any concerns about my vision during the drive!
– Day 1 Post-op vision check: 20/20 vision! I had a little dry eye and was given Moderate-Severe eye drops to use during the day. I started using them twice daily.
– Days 1 – 7: 1 antibiotic eye drop and 1 anti-inflammatory eye drop 4 times per day. Makeup is allowed; but new eye makeup is required to prevent bacteria transfer. I opted to go without eye makeup for the first week post-op.
– Day 14 Post-op vision check: 20/20 vision! My dry eye had improved and my vision was stable!
– Day 90 Post-op vision check: 20/15 vision! My eyes were healthy and feeling great. I am not required to go back for more post-op evaluations and will continue with a primary optometrist. I can of course go back to Maloney-Shamie Vision Institute with post-op questions/appointments if needed throughout the next year.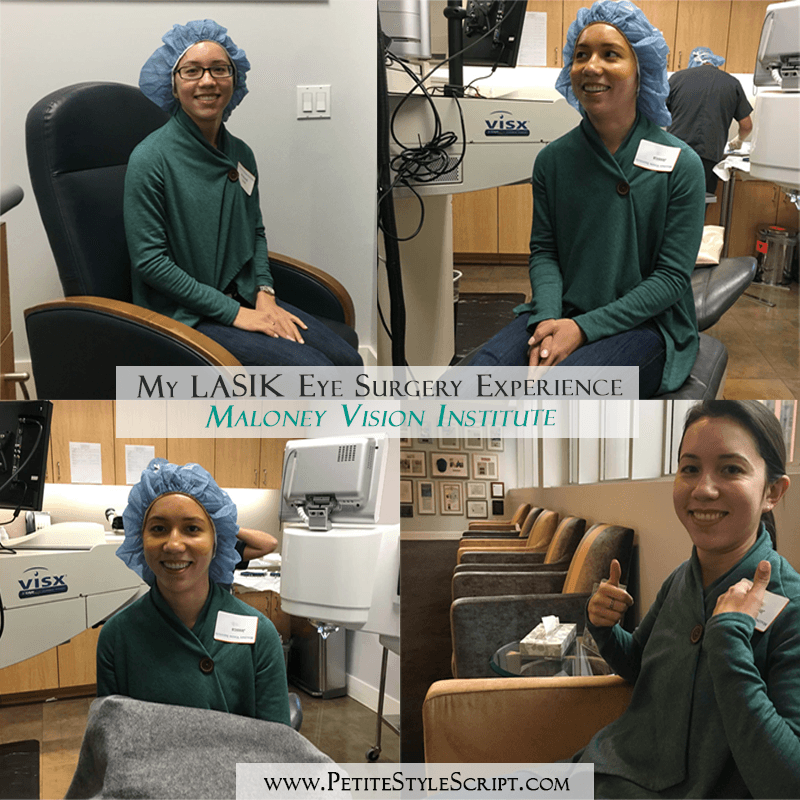 Save
Pre-op getting ready, Ready for Surgery, Post-op before being sent home. Yes, I have betadine on my face in photos 2 & 3. And yes, I blurred out part of my name badge.
Outfit: Bobeau Fleece Wrap Cardigan XXP (great for the chilly surgery area!); Paige Denim Jeans size 23
3 Months Later:
– It's officially been 3 months since my LASIK eye surgery at Maloney-Shamie Vision Institute!
– As stated above, my vision is now 20/15
– I can confidently say this surgery was one of my best decision!
– Everyday, my eyes feel healthy, keep me working efficiently and confidently, and allow me to live my life on my terms – no more worries about contact lenses or glasses
– I continue to use eye drops twice a day – once right before bed and once right when I wake up – this helps keep my eyes hydrated throughout the day without worrying about reapplying eye drops while wearing makeup
– Here are a couple eye drop options (consult your own physician for recommendations): Single-use vials or Gel Drops (I use the gel drops twice daily)
– I look forward to my new life without glasses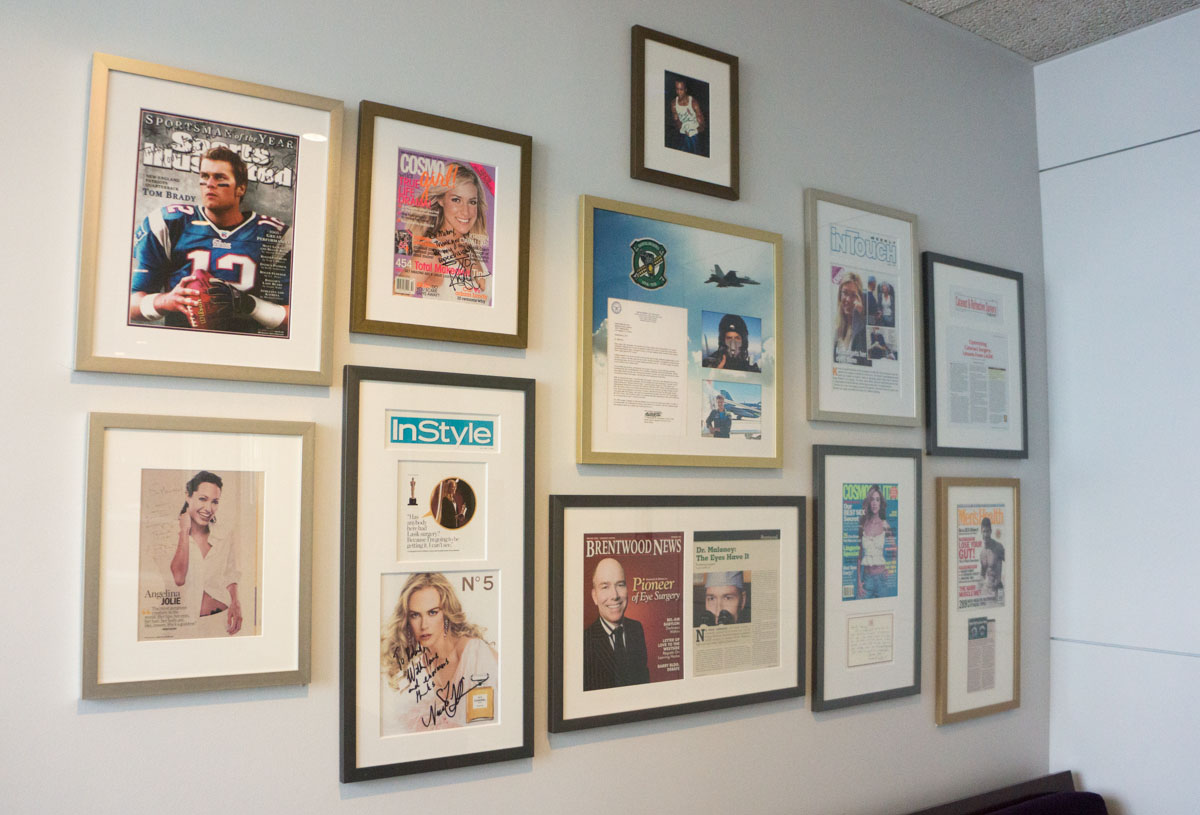 Save
Overall Experience & Why I Chose the Maloney-Shamie Vision Institute:
– Dr. Maloney was a pioneer in bringing LASIK eye surgery to Western North America
– Dr. Maloney has performed over 60,000 vision-correction surgeries!
– The staff at the Maloney-Shamie Vision Institute was AMAZING! From the check-in process to meeting with Dr. Low (Doctor of Optometry) to his nurses and assistants in the operating room – everyone was friendly, willing to answer any questions that arose and reassuring during the entire process
– Excellent communication process – I was able to discuss further questions I had and the possibility of taking a cancelled appointment with the office directly via email with Dr. Low! So convenient with you have a busy schedule and just want to send a quick email.
– I place a high value on customer service and this was by far one of my best experiences from any company I've interacted with (and to say that about a -healthcare setting is quite rare – think about your last visit to your physician…)
– Overall, Dr. Maloney upholds his family like environment in his office; read more from his welcome letter HERE.
– If you've seen my Giving Back Series, then you know I place I high value on this & like to highlight companies/services who have these same values. Dr. Maloney is a Trustee of Children Mending Hearts, a charity that provides cultural enrichment programs for homeless children and a Trustee of Van Nuys Charities, which provides financial support for charities that serve children and the homeless.
– My family had prior experience with Dr. Maloney – my twin sister had her LASIK eye surgery performed here in 2014 – by the way she is a physician who loves performing surgery – and other relatives have had Vision Correction for Cataracts by Dr. Maloney
– I have even asked if I can fly my dad out (from Wisconsin) to have his cataract surgery performed here! If you are wondering, Dr. Maloney does take out-of-town patients, more information HERE.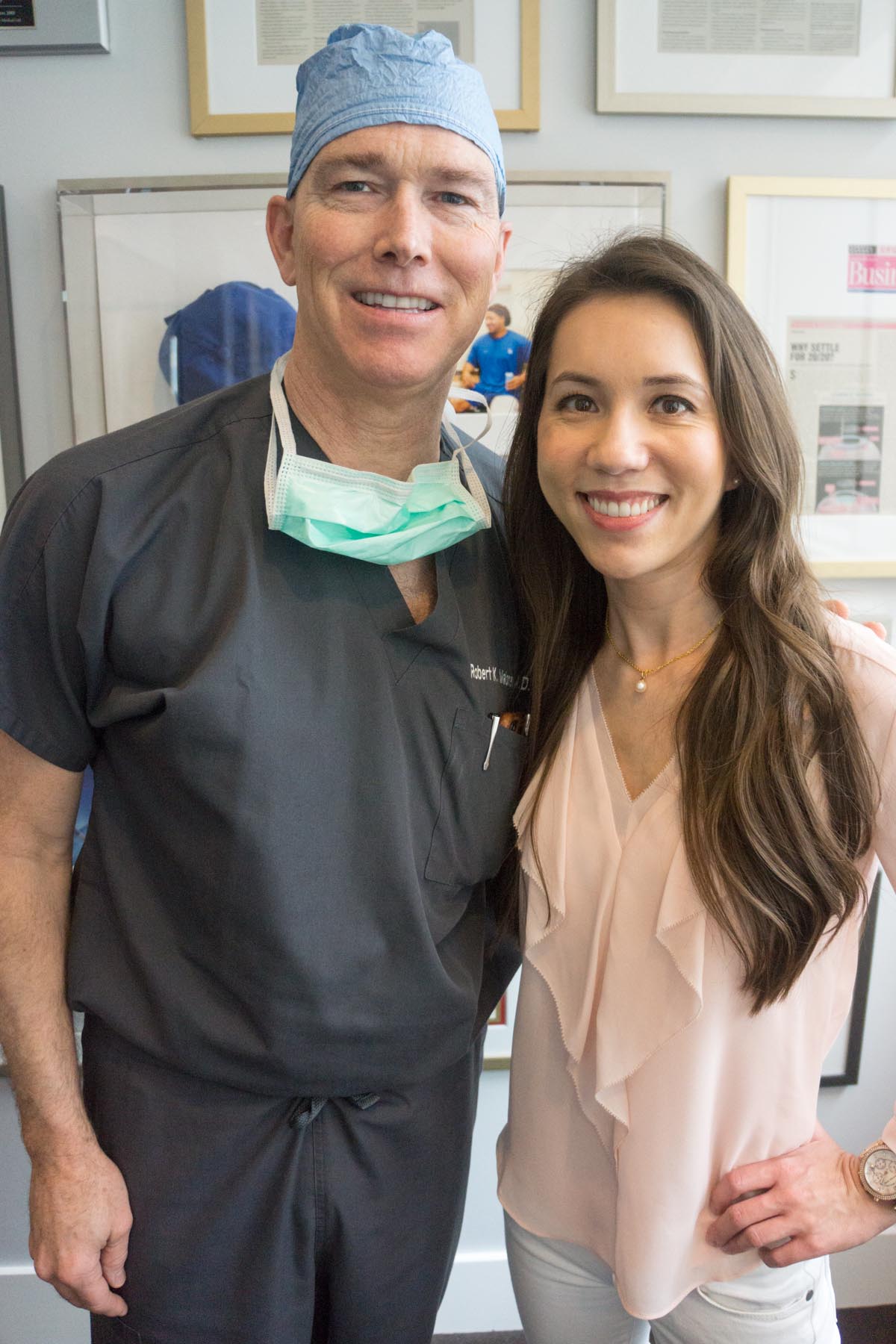 Save
Outfit: Ann Taylor blouse XXP, Paige White Denim Size 24, Michael Kors Watch, Pearl Necklace, Pearl Earrings
Cost:
– When I discuss LASIK eye surgery with friends/colleagues, I often hear "Wow, that was probably an expensive surgery"
– Here is my response to that statement: Your vision is one of your vital senses, are you ready to make an investment in your health and well-being? If so, then price should not be the ultimate deterrent – I always say investing in quality over quantity and that does not only apply to style/clothing but to your whole being.
– I would never take the risk of going to "just any surgeon"
– If you are worried about the cost of laser eye surgery – look at the financing options, check with your healthcare insurance, flexible-spending account (FSA) options, etc. and plan for it
– Personally, I place the quality of my life and health above spending money on vacations and other luxuries
Your vision is one of your vital senses, are you ready to make an investment in your health and well-being?CLICK TO TWEET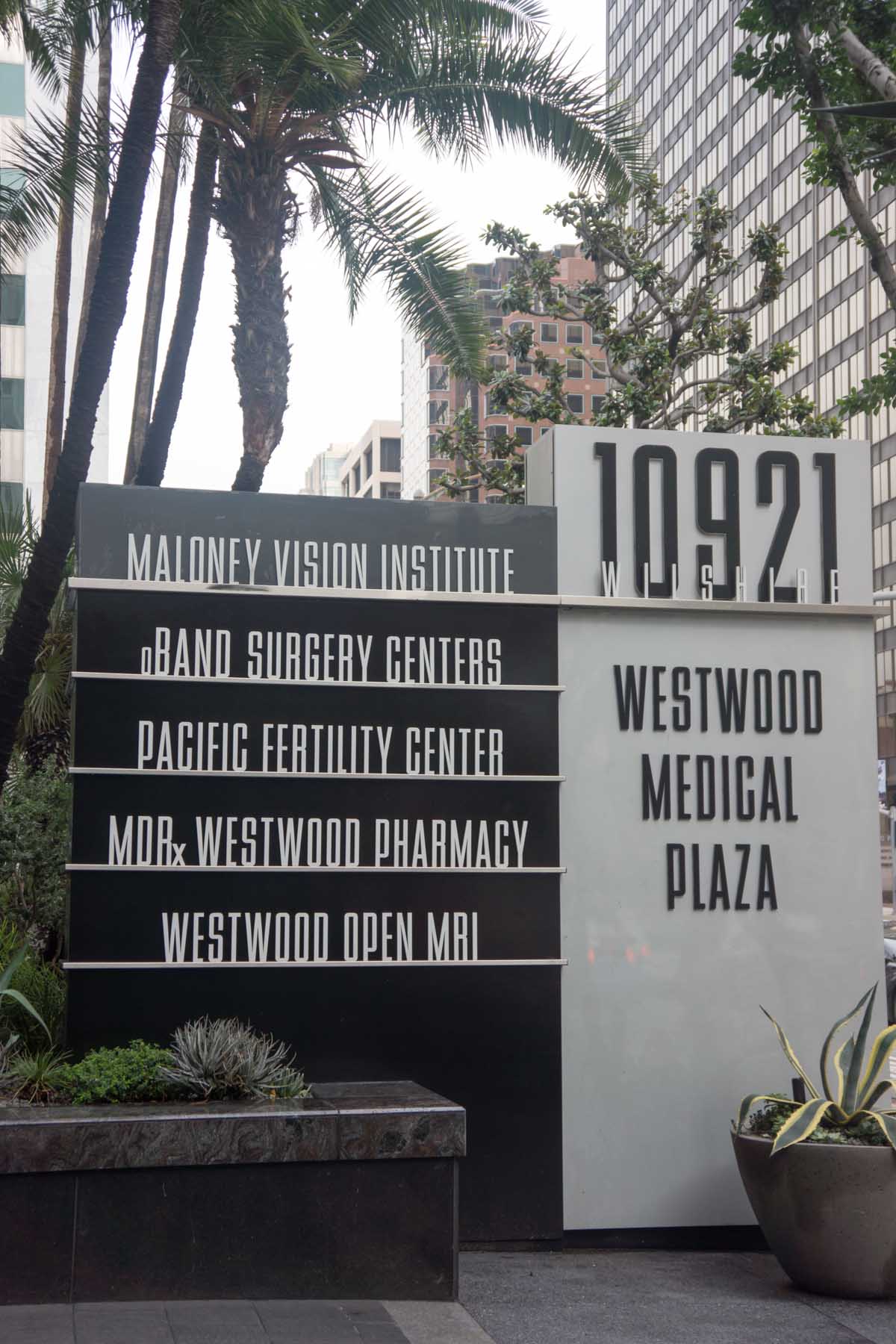 Save
Video:
See short clips from my Instagram Stories pieced together into this ~3 minute video documenting the days immediately after my surgery, follow-up day 14 and follow-up day 90!
Have questions? Write a comment below or contact me directly via email. If you found this post helpful, please consider sharing it with friends via my Teal Social Media Sharing Buttons!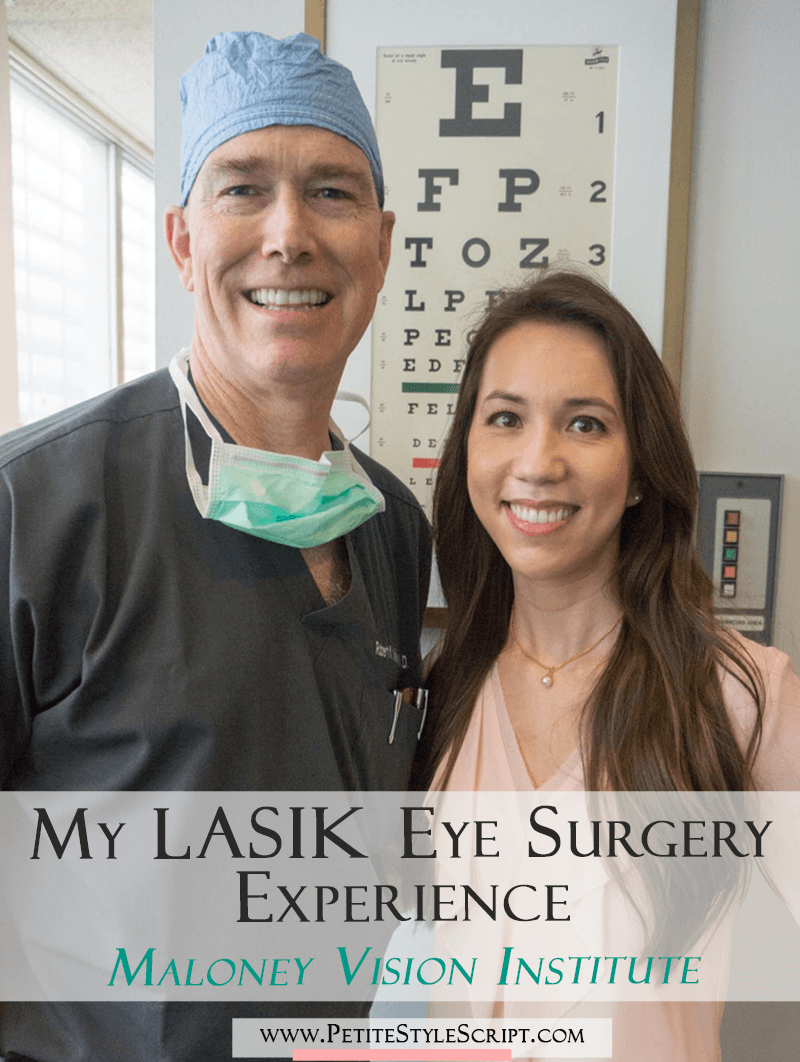 Save